Clarity is one of the great essential oil blends offered in August's PV promotion—and may I just say, this blend is so awesome! I love using it around my home and office! Clarity's scent creates an environment perfect for being alert and focused. Whether diffused or applied topically, it is definitely a must-have in your home.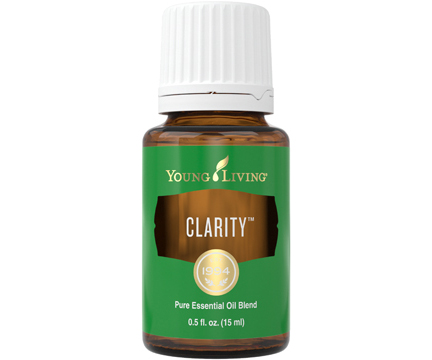 This blend includes 12 (yes, you read that right!) essential oils: Basil, Cardamom, Rosemary, Peppermint, Coriander, Geranium, Bergamot, Lemon, Ylang Ylang, Jasmine, Roman Chamomile, and Palmarosa. These powerful oils work together to make a blend that can be used around your home every day. Below are some awesome facts about some of the plants used in this amazing blend..
• Basil is known as "The King of Herbs" and has been used for centuries. Some civilizations used it to ward off evil spirits, while other cultures used it as a love token. It was also commonly used by Egyptians during the embalming process.
• Anciently, the peels of a lemon were used to help with many different health issues. Lemon oil has many skin-supporting properties and has been used for thousands of years to support healthy-looking skin. The scent of lemon is very invigorating and can help promote a sense of clarity.
• Coriander is more commonly known as cilantro… This was news to me
🙂 This herb has been around since biblical times and is mentioned many times in the bible. Many cultures and civilizations have mentioned coriander in historical texts for its medical and culinary uses.
• Rosemary is very powerful and has been linked to memory for hundreds of years.
• Cardamom was one of the most prized spices in ancient Greece and Rome and was cultivated by the king of Babylon around the 7th century B.C. Cardamom pods were also commonly chewed to help keep individuals' breath smelling minty and feeling clean and fresh. This herb was heavily used for medicinal purposes, cultural rituals, and the embalming process.
• For hundreds of years, Bergamot was commonly used for its skin-supporting properties. When used as a fragrant, it has many mood-uplifting qualities.
• Smelling Jasmine can produce feelings of hope, peace, and harmony.
I love using clarity. Some ways to use clarity around your home:
• Apply topically on your feet after a long day.
• Diffuse in your office during a busy day.
• Apply topically to the base of your neck before bed.
• Diffuse while your kids do homework or apply to their feet before/after school.
• Diffuse while studying for a test.
This is a must-have and an oil you can get this month free at the 250 PV level!
****taken from YL Training and Education FB
♦ Diffuse Clarity's earthy blend of Peppermint, Rosemary, and more while studying, sending emails, or checking other items off your to-do list.
♦ Between unloading the car, getting a snack, and sorting through bags, backpacks, and school supplies, the after-school rush can become overwhelming. Make the transition a little smoother by diffusing Clarity to signify that it's time to settle in to some quiet homework time
How to Use
Topical: Dilute 1 drop with 1 drop of V-6™ or olive oil and apply to desired area as needed. Aromatic: Diffuse up to 30 minutes 3 times daily. Caution: Keep out of reach of children. For external use only. Keep away from eyes and mucous membranes. If you are pregnant, nursing, taking medication, or have a medical condition, consult a health professional prior to use. Avoid direct sunlight or UV rays for up to 12 hours after applying product.