Digize Essential Oil Blend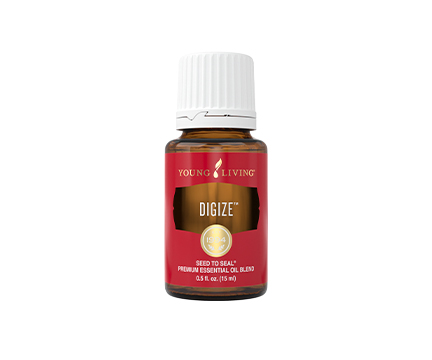 A unique and proprietary Young Living essential oil blend, DiGize™ combines Tarragon, Ginger, Peppermint, Juniper, Fennel, Lemongrass, Anise, and Patchouli essential oils.
 DiGize oil also includes Fennel essential oil, the use of which dates back to ancient Egypt.
To enjoy its rich, calming scent, diffuse in your home, office, or even car. You can even apply it directly to chest, wrists, and abdomen to enjoy its scent wherever you go.
DiGize essential oil uses:
To help you wind down for the evening, diffuse DiGize essential oil to enjoy its relaxing aroma.

The relaxing scent of the essential oils in DiGize makes it a perfect fit for diffusing in the home or even the car to help your kids feel calm during long rides.
How to apply: 
Topical
Dilute 1 drop with 1 drop of V-6™ or olive oil and apply to desired area as needed. May be applied to Vita Flex Points on the feet and ankles. It may also be applied topically over the stomach, a as compress on the abdomen, and on other Vita Flex Points on the body. 
Aromatic
Diffuse up to 30 minutes 3 times daily.